Our operations are implementing programs and initiatives that reduce greenhouse gas emissions, conserve water and decrease waste through reuse and recycling. Many of our operations utilize ISO 14001 and ISO 50001 international standards, as appropriate, to support their initiatives. We strive to make the highest quality products for our customers with the smallest environmental footprint.
Greenhouse Gas Emissions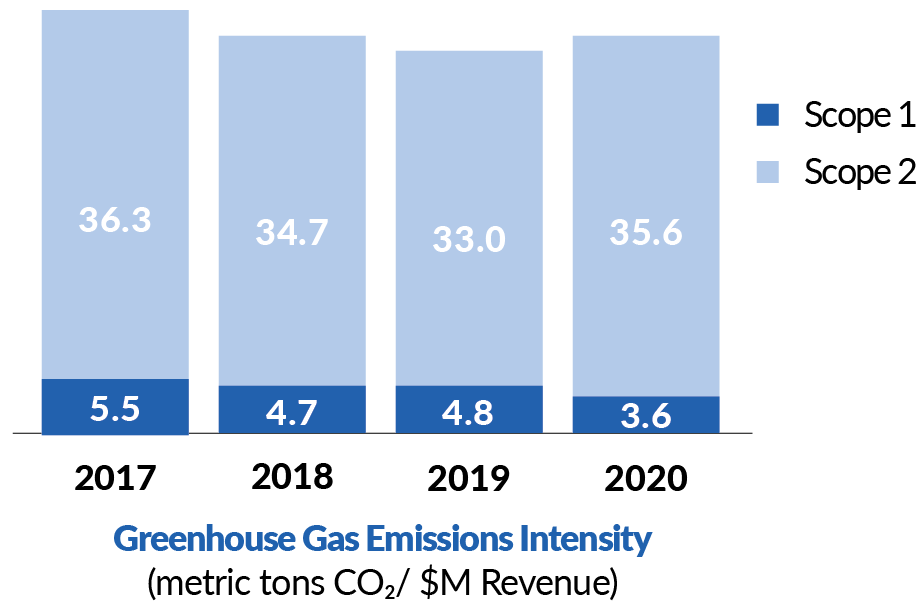 Amphenol is acting to reduce our operational energy use and minimize our greenhouse gas (GHG) emissions through the application of lean production processes and capital investments in energy-saving equipment. Our efforts in these areas have allowed us to reduce our Scope 1 and 2 GHG emissions intensity over the four years that we have collected this data. Our 2022 goal is to reduce our revenue-normalized Scope 1 and Scope 2 GHG emissions by 10% versus our 2018 levels. We have also begun evaluating our Scope 3 GHG emissions and have started developing a decarbonization strategy for our business.
The use of renewable energy is an important part of our GHG emissions reduction strategy. Over the past few years, we have improved the monitoring of renewables in our energy consumption in order to better understand the opportunities we have to increase our sustainable energy use. The renewable electricity portion of our total energy purchased is up to 19% and we plan to increase this percentage over time. Along with the continued monitoring of renewables in our purchased electricity, we also plan to increase our on-site production of energy fueled by renewables.
+

Read about how we are taking action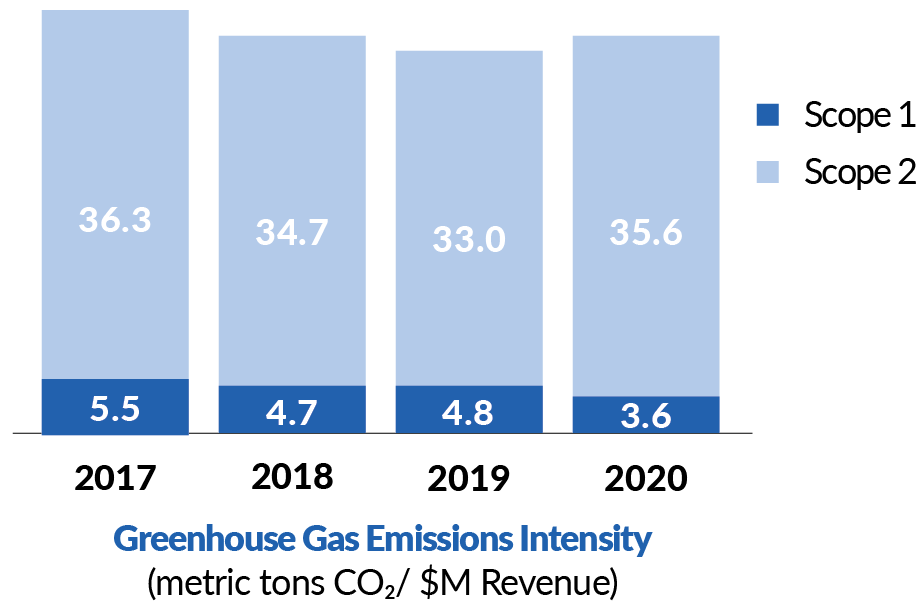 Energy Reduction in Action
Amphenol FTG – Triberg, Germany
To reduce energy consumption, our Amphenol FTG facility installed a green roof. The plants on this green roof collect rainwater, which helps to control the building temperature, reducing the need for air conditioning. In addition to its energy reduction benefits, the green roof provides aesthetic enhancements to the building and surrounding space.
Amphenol Procom – Denmark and U.K.
Our facilities have also reduced their electricity usage by replacing old fluorescent lighting with more energy-efficient LED fixtures. As one example, our Amphenol Procom facilities in Frederikssund, Denmark and Wellingborough, U.K., replaced their existing lighting with LED fixtures, resulting in a 55% reduction in annual electricity consumption in Denmark and a 21% reduction in electricity costs in the U.K.
Optimizing to Reduce Water and GHG Emissions
Amphenol Advanced Sensors – Pyeongtaek-si, South Korea
In 2019, our Amphenol Interconnect and Sensor Systems facility in Pyeongtaek-si, South Korea developed a procedure to extract hot water from its production processes to help moderate temperature in the facility boiler. The optimization not only saved on water use, but also reduced the GHG emissions of the facility by 1.2 metric tons CO2 equivalent. This was achieved through optimizing hot process water flows and redirecting them to a boiler to warm and control the temperature of the shop floor.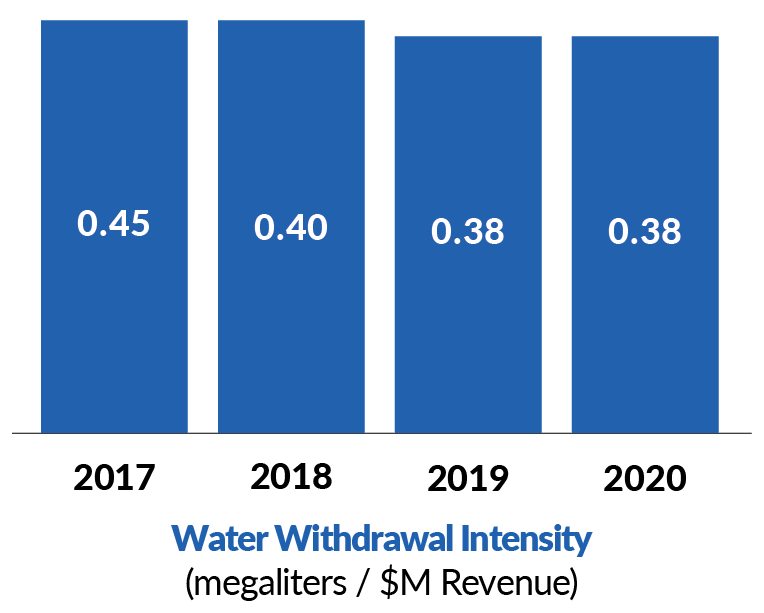 Water Withdrawal Intensity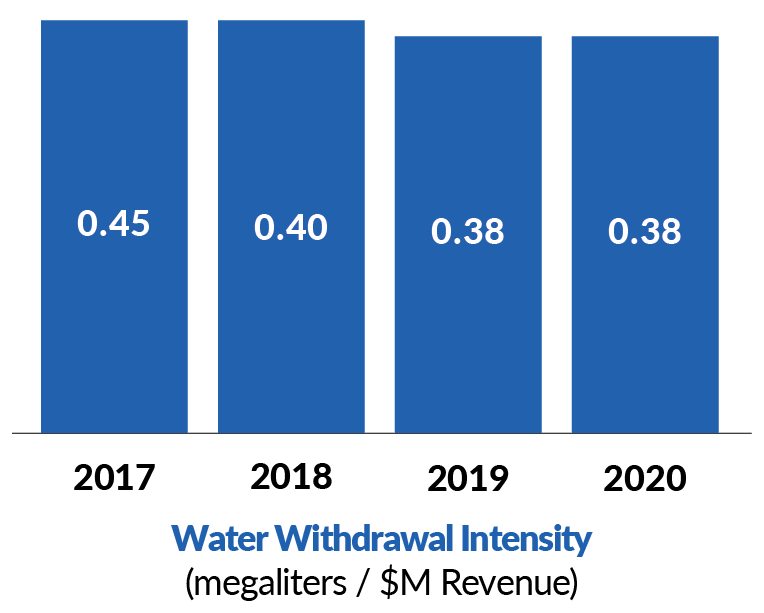 Amphenol strives to be a responsible water user in the communities in which we operate. We are committed to actively pursuing and investing in water optimization projects across our facilities and we work to educate our employees on water conservation practices. As a result of these efforts, we have been able to reduce our water withdrawal intensity throughout our facilities.
In 2020, we completed our sectoral water risk screening to assess the risk of water scarcity, flooding and quality across our global manufacturing footprint. Utilizing the World Wildlife Foundation (WWF) Water Risk Filter, we were able to complete a comprehensive analysis of our global manufacturing footprint to assess our current and future physical water risk. Based on the analysis, we were able to determine that none of our operations were in locations classified as "extreme risk." We plan to conduct this risk assessment annually.
+

Read about how we are taking action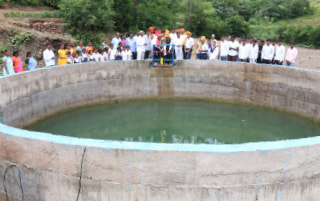 Supporting Water Reuse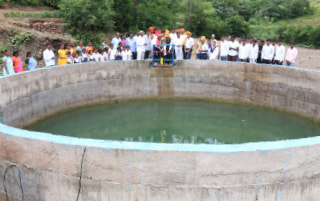 Amphenol Interconnect India – Pune, India
Fresh, usable water is a valuable commodity in India, as many communities experience periods of overabundance during the monsoon season, followed by intense drought. During times of water scarcity, community water systems may be unable to meet local demand. To help safeguard our operations and lessen our impact on the community water system, we carried out a rainwater harvesting project in 2020. Over the course of the 2020 monsoon season we harvested 14 million liters of water.
Amphenol Advanced Sensors – Tijuana, Mexico
Access to clean water has never been more critical than during the pandemic and in a community like Tijuana, which is battling water scarcity, being a good corporate citizen means conserving every drop. In 2020, we installed a gray water reuse system at our Tijuana facility to make our production processes more efficient and less water intensive. Through this water reclamation process, we were able to save water and reduce our strain on the local water treatment system.
Waste Disposal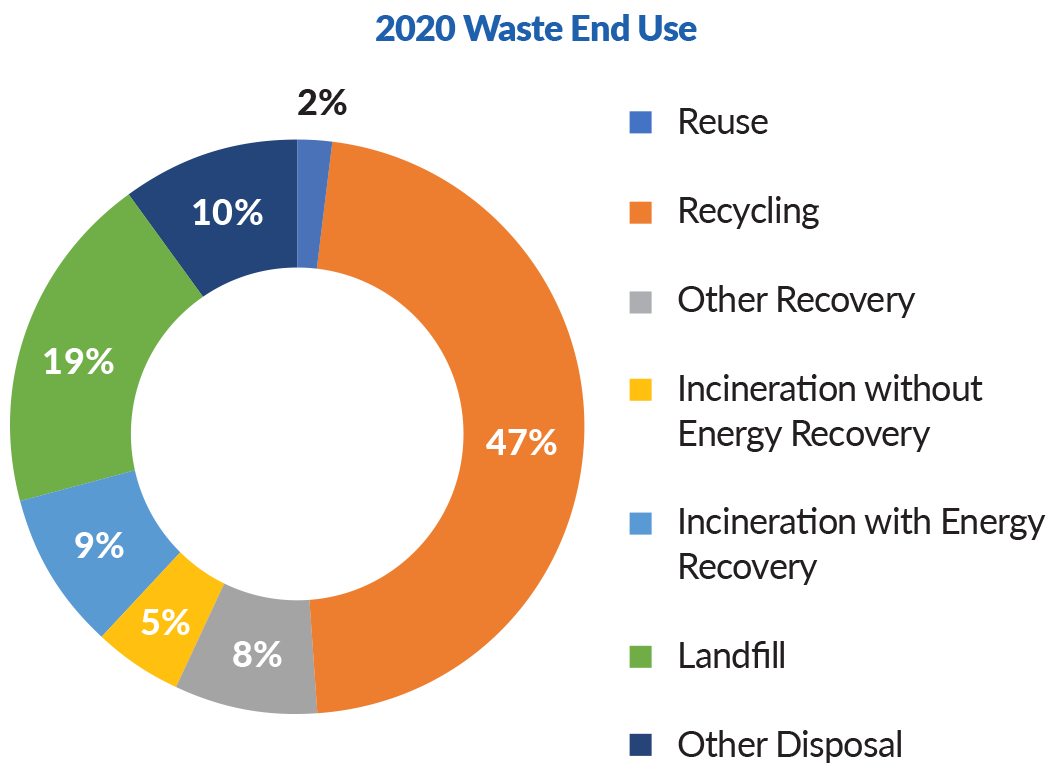 Limiting our use of resources and minimizing our waste remain a core component of Amphenol's operational management culture. Our operations employ a number of methods to limit our waste, with some examples including utilizing recycled packaging for connectors, regrinding thermoplastics as appropriate to supplement virgin material feedstocks, composting organic material from our employee cafeterias and reducing our paper usage. As a result of our efforts, we were able to reuse, recycle or recover approximately 57% of our total waste in 2020. We will continue to look for new ways to minimize our material use as we work to further reduce our waste production and deliver more sustainable products to our customers.
+

Read about how we are taking action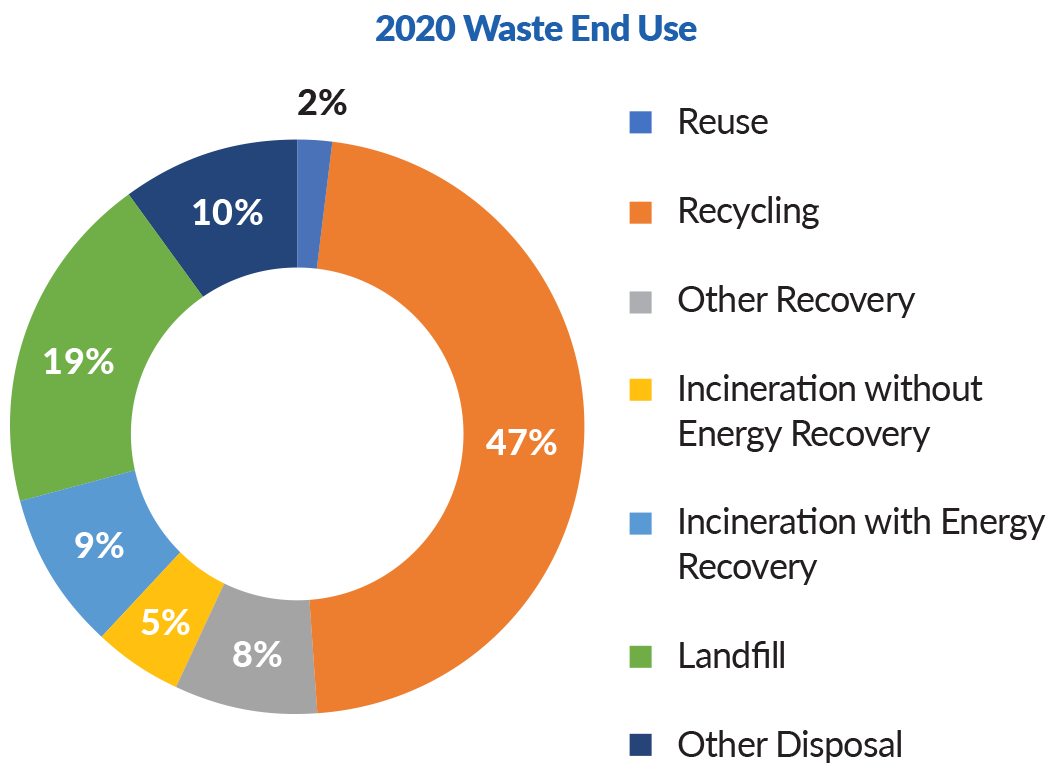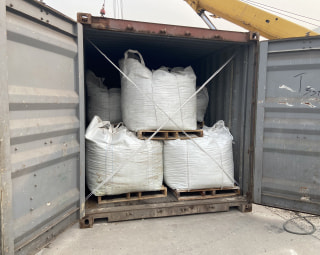 Reducing our Hazardous Waste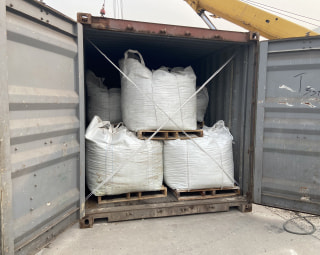 Amphenol Electronics – Tianjin, China
We are always seeking opportunities to design waste out of our manufacturing processes. One example of our waste reduction was the implementation of a new materials recovery strategy at our facility in Tianjin, China. To reduce the harmful environmental impact of disposing of our facility's electroplating sludge, which is hazardous and difficult to discard, our facility partnered with a global recycling company. Using advanced urban mining technologies, the recycling company is able to extract valuable heavy metals found in waste sludge, including nickel, copper and silver, for reuse. This partnership enabled us to minimize the amount of hazardous waste disposed while also saving cost.
Amphenol Tel-Ad – Israel
In Israel, our team engaged with a non-profit recycling company to implement responsible recycling. The facility was able to recycle cartons, nylon, wood and polystyrene used in the factory. Our team was able to measure the amount of waste recycled and provide a report on its recycling from 2012 through 2020. The report data was then validated by an external auditor to ensure accuracy.