Amphenol Sine Systems' DuraMate AHDM (-059) Cable Clamp Backshells
May 03, 2021 | Amphenol Sine Systems
The DuraMate™ AHDM environmentally-sealed, multi-pin, heavy duty, metal, circular connector series provides an economical quick-connect bayonet locking system manufactured to withstand the challenges and complexities of harsh environment off-road applications.
In addition to the wide variety of backshell options available, we now offer a Cable Clamp Backshell in Size 18 and 24. Made of Aluminum Alloy and Nickel Plated with Stainless Steel screw and lock washers, as well as EPDM bushings.
Continue Reading
---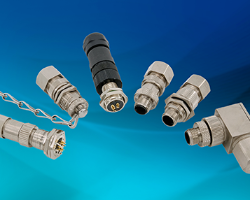 Amphenol Industrial's Max-M12 Expansion
March 17, 2021 | Amphenol Industrial Operations
Amphenol Industrial Operations has enhanced its Max-M12 product line to include an X coding, high-speed connector with support for 10Gb/s (1000M Ethernet with CAT6 cable) data transmission and S coding for a safer connection with First Mate Last Break. These new connectors are ideal for use in the rail and mass transit (RMT), heavy equipment vehicles, industrial automation and robotics markets.
Used on RMT door systems, on camera and communication systems, as well as on HVAC systems, the Max-M12 can easily transmit high speed data in environments where there is high vibration, moisture, salt, dirt and debris. It can also be used for off-road vehicles, ruggedized factory automation and robotics signal applications.
The Max-M12 family of connectors is based on IEC 61076-2-101 and SAE J2839. They are backward compatible and can be mated with any standard M12 connector with the same indexing. The Max-M12 features several different mounting options, including front or back lock/flange and wire termination styles, including solder, crimp and printed circuit tails.
The Max-M12 is rated to 4A and can endure extreme temperatures ranging from -55˚C to 125˚C. All Max-M12 connectors have an IP67 rating making them dust and waterproof. They are resistant to high pressure wash downs and water immersion. To ensure high performance in harsh environments, Amphenol has plating solutions designed to endure salt spray testing for up to 240 hours.
Amphenol's Max-M12 connector in-line mated pair can withstand 444 N of connector-to-cable retention forces and contact retention forces to 110 N. Housed in an HDM 12 EX impact resistant metal or plastic shell, the in-line mated pair is available as a 90˚ right angle or straight versions. When shielding is required the Max-M12 metal version is available in multiple shell styles for a variety of interconnect requirements. Both the 4-and 5-pin configurations are available with A, B and D polarity codes.
For more information about the Max-M12 visit Amphenol Industrial Operations.
Continue Reading
---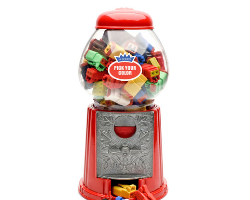 Amphenol Sine Systems-Pick Your Color!
March 11, 2021 | Amphenol Sine Systems
Our A Series™ Family of heavy duty, multi-pin, thermoplastic, rectangular connectors encompass a wide range of products, serving a variety of industries, and come in a variety of color modifications, as well as custom options, for your specific needs.
Colors are often used to help differentiate between keying options, but we also offer color modifications across a large number of our A Series™ product lines for your specific project needs.
Available colors are: Grey, Brown, Black, Blue, White, Yellow, Green, Red and Orange
Custom colors are also available. Contact your Sales Representative or Customer Service Representative for more information.
Continue Reading
---
Amphenol Sine Systems PRM (Panel Rack Mount) Power Connectors
March 11, 2021 | Amphenol Sine Systems
Amphenol Sine Systems' PRM Series™ (Panel Rack Mount) Connectors, available in 2 position, both in Plugs and Receptacles, are a quick-connect power connector solution for use in panel rack mount network aplications. Our quick-connect design enables denser installations, faster deployments and upgrades.
Market Applications: Telecommunications Infrastructure, Data Centers, Broadband
Features & Benefits
Field Installable w Standard Crimpers
Stackable / Reduced Footprint / In-Line Wire Design
Faster Installations / Replacements
Keyed to prevent mis-mating/reverse polarity
RADSOK®* and SureSocket™ Contacts
Panel receptacles can be customized to your specific application
Continue Reading
---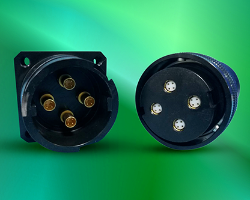 Amphenol Industrial's GT Quadrax
February 24, 2021 | Amphenol Industrial Operations
Amphenol Industrial Operations now offers the high speed contact that can be implemented in Amphenol's GT series connectors and used in hazardous environments. Quadrax contacts offer more reliable rail mass transit (RMT) application requirements on inter-vehicle connections and database applications than multi-pole connectors without individual shielding.
This new combination of a reverse bayonet connector and Quadrax contacts results in a connector system that offers one outer contact with four inner contacts spaced to form two 100 to 150 Ohm controlled impedance differential pairs. The GT Quadrax is an excellent alternative to the more expensive DTL-38999 Series III and ARINC-type connectors for harsh environment applications, including Ethernet 100 Bas-T-100 Ohm, Gigabit Ethernet 1000 Base-T-100 Ohm, Fiber Channel-150 Ohm and IEEE1394B FireWire-110 Ohm.
Ideal for rolling stock manufacturers, factory automation solution providers and control device manufacturers, these contacts feature high EMI shielding performance, reverse bayonet locking for ease of use, high shock and vibration resistance for up to 500 mating cycles and quick positive coupling.
Quadrax contacts have a bandwidth up to 1.25 GHz, a data rate exceeding 2.5 Gbps, a maximum voltage rating of 500 Vrms at sea level and 1000 VAC rms between all inner contacts at sea level, as well as 500 VAC rms between inner and outer contacts at sea level.
Available in size 8 crimp termination style or with PC tails, these robust contacts are gold plated and supplied with gold over nickel on mating parts. The outer contact has a rugged wall section for durability.
According to EN60068-1, Quadrax contacts are rated IP67-IP69K in mated condition. With proper plating from Amphenol Industrial, they are RoHS and REACH compliant.
For more information about the GT Quadrax visit Amphenol Industrial Operations.
Continue Reading
---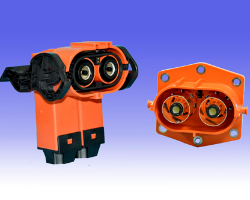 Amphenol Industrial's UPC 14mm
February 10, 2021 | Amphenol Industrial Operations
Amphenol Industrial Operations now offers a plastic Universal Power Connector (UPC™) series that is designed to be used in heavy equipment and electric vehicles. The UPC 14mm offers continuous power at 500A.
Ideal for use in battery connection, power distribution units, electric motors, power converters/inverters, hybrid vehicles, battery management systems, as well as in heavy equipment electrification and starter generators, this two-pole connector includes EMI shielding, HVIL (high voltage interlock loop) and a second lock function for high voltage and current connections.
The UPC 14mm features Amphenol's patented RADSOK technology for higher amperage, low voltage drop, less resistance and lower T-rise. The connector's RADSOK twisted grid configuration allows for up to 50% more current to pass through the same size pin, while providing increased reliability, cycle durability and lower mating forces.
The UPC 14mm also offers a quick lock and release function and a keyway design to prevent incorrect mating. It meets an IP67 rating when mated and can withstand a minimum of 100 mating cycles.
For more information about the UPC 14mm visit Amphenol Industrial Operations.
Continue Reading
---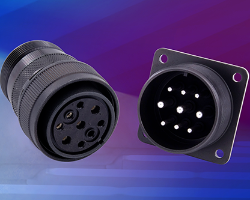 Amphenol Indutrial's 97 E Pre-Earth FMLB
January 25, 2021 | Amphenol Industrial Operations
Amphenol Industrial Operations has enhanced its Pre-Earth First Mate Last Break (FMLB) connectors. These connectors provide a path for any stray voltage to be shifted to a safe ground in an effort to avoid harming both the operator and voltage-sensitive equipment.
The Pre-Earth FMLB connectors are designed to meet the safety requirements for applications where a protective circuit from the ground to the shell is needed. These connectors feature a first mate, last break capability where the grounding pin engages prior to the engagement of the remaining pins, making any mating cycle electrically safe. Additional attributes include a receptacle with IP67 protection when unmated and plug when in the mated condition for superior moisture sealing and waterproofing; conformity with European safety standards of DIN VDE 0627; SAE AS50151 dimensions and performance; as well as being intermateable with MS 5015 and 97 series styles. This connector also meets the IEC/EN 61984 standard.
Ideal for use in factory automation, process and control testing, medical equipment, measurement equipment, industrial equipment and semiconductor applications equipment, as well as in servo motors, robots and machine tools. These connectors offer hard dielectric insert for better pin alignment and an enhanced mechanical strength compared to the MIL-5015 connector.
The Pre-Earth FMLB connectors offer different shell sizes, including 3102A box mount and 3106A straight plug. They have an operating temperature range from -55˚C to 125˚C and can withstand up to 100 mating cycles. They offer contact sizes from 4 to 20, with silver and gold plating available. The connectors feature either soldering or optional crimp terminations. Their current rating is 5A to 80A and voltage ratings of 110, 150, 200, 250, 400 and 500 VAC. The connectors standard plating is black zinc alloy. Green zinc and other playing types are optional.
For more information about the 97 E Pre-Earth FMLB visit Amphenol Industrial Operations.
Continue Reading
---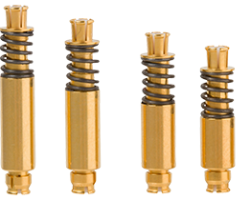 Check Out SV's Latest High Performance SMP Spring Bullets
January 22, 2021 | SV Microwave
SV Microwave offers a complete line of SMP connectors that conform to DSCC 94007, 94008 and MIL-STD-348. The SMP connector was developed to meet an industry need for a smaller high frequency compact design that incorporated ease of use and functionality. The SMP spring bullet is at the heart of this offering. The spring loaded RF bullet allows for consistent RF response during gang mating from channel to channel.
Continue Reading
---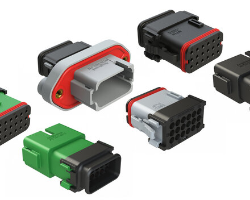 Amphenol Sine Systems' 18 Position (AT16-18XX)
January 19, 2021 | Amphenol Sine Systems
Amphenol Sine Systems' AT Series™ connectors are a high-performance, cost-effective solution able to be used in a variety of interconnect applications: Heavy Duty, Transportation, Marine, Diagnostic, Military, Alternative Energy and Agricultural. They contain superior environmental seals and seal retention capabilities.
Key Features of 18 Position
Available in both AT Series™ and PanelMate™ AT Series
Optional keying configurations A, B, C, D and E (color-specified)
Extended Strain Relief end cap option protects each wire cavity to maximize sealing integrity
Plug and receptacle housings are pre-assembled with internal rear seals and covers
Integrated latch for mating ensures a definitive electrical and mechanical connection
Superior front and rear environmental seals and seal retention capabilities provide a multi-sealing perimeter against environmental ingress
Compatible with existing standard products industry-wide
With the addition of the 18 position above, our AT Series™ connectors are now available in 2, 3, 4, 6, 8, 12 and 18 positions.
Continue Reading
Showing 21 to 29 of 29 items